Can I tell you about one of the downfalls of my marriage? Pie. Yes, the classic, all-American fruit pie. My husband doesn't like it.
I. KNOW. Who doesn't like pie? It's basically saying (A) you don't like butter and sugar being baked together to form a shell, which used to hold more butter and sugar and (B) you don't like Thanksgiving. Because it's a fact that the alternate definition of Thanksgiving is Pie.
I've seriously investigated this illness of his. I've broken the pie down piece by piece trying to figure it out. Is it the flaky buttery crust? The warm sugary filling? The light crispy topping? The deliciously mouthwatering aroma currently filling my house as this goodness bakes???
It comes down to the fact that he doesn't like cooked fruit. In his mind the fruit somehow changes once heat is applied to it. Look here Isaac Newton, a strawberry is a strawberry, regardless of it's temperature.
Ah alas, I've learned to deal with this life setback in 2 ways:
Firstly I am constantly trying to con him into eating alternate pie/cobbler type desserts:
blueberry crumble cookies
,
apple pie treats
, etc. I even try tricking him by calling my fruity desserts by alternate names. "What?! No honey this isn't a pie, it's a
Strudel
." Or "No no, this is a
Crumble
... totally different from a cobbler."... Buckles, crisps, slumps, etc it never works.
Secondly if you see me at a party having 2nd and 3rd servings of all the fruit pies and cobblers, you'll know why. Don't judge me.
Hence I decided to try and work one into a rice krispy. I give you the Cherry Pie Rice Krispy. While even I can't pretend that these are actually the same as eating a piece of pie, they make a pretty darn good substitute. First there's the pie crust which it all rests so perfectly on. Because what's pie without a buttery crust? Then the cherry jello mix gives the krispies the overall fruity flavor, while the cherries pack a fun little tart punch. Next time I might even put in more cherries. Mmmm, this is heaven in a square people. Heaven. In a Square.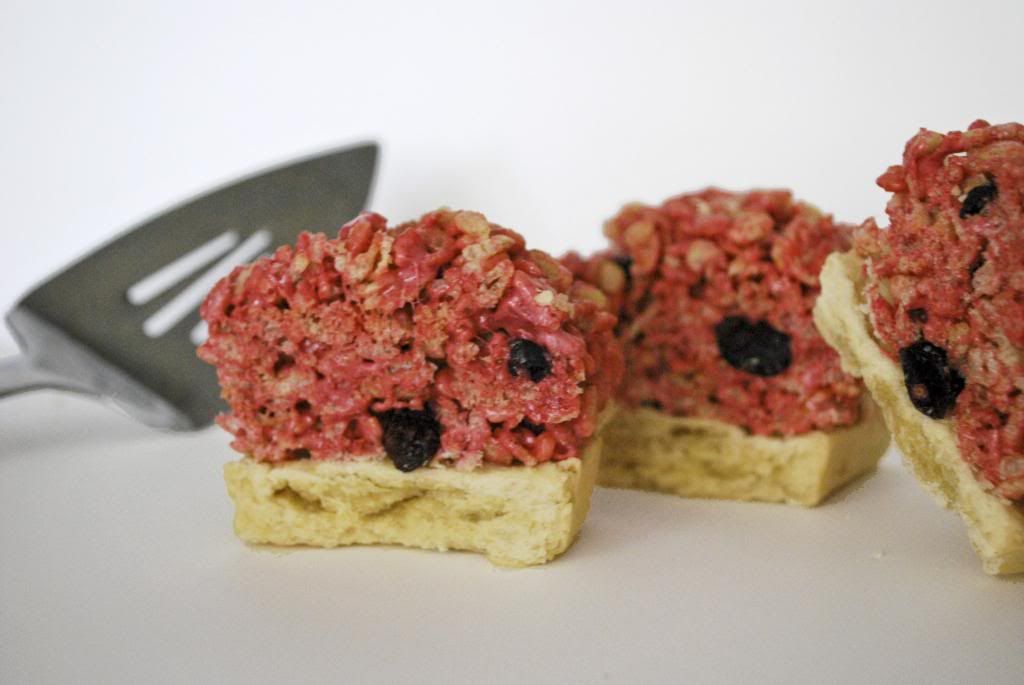 Cherry Pie Rice Krispy Treats
4 Tbsp butter
6 cup marshmallows
1/4 cup dry cherry jello mix
1 tsp vanilla
6 cup krispies
3/4 - 1 cup dried cherries
1 pie crust (store bought is fine, I put my recipe for my homemade one below too)
Roll out your pie crust until it fits nicely into the bottom of your 9x9 pan. (this may take some tweaking). Place in pan and poke holes all over with a fork to prevent bubbling. Bake at 350 degrees for 30 minutes. Set aside to cool.
Pour the rice krispies and dried cherries i
n a large mixing bowl
. Set aside.
Melt the butter in a saucepan over medium heat. Once melted, turn the heat down to the lowest setting and add the marshmallows. Stir until the marshmallows are mostly all melted (this will take a few minutes--low and slow is key for perfect texture) then stir in the jello mix and vanilla.
Once fully melted, take them off heat and pour over the rice krispies. Stir lightly to combine. Dump everything on top of your cooled pie crust. Let it sit for about 5 minutes, then with greased hands go in and flatten the top. Allow them to cool about 20 minutes.
Basic Pie Crust
1 1/4 cups all-purpose flour
1/4 teaspoon salt
1/2 cup shortening (use butter flavored)
3 tablespoons ice water
Whisk the flour and salt together. With a pastry blender, cut in cold shortening until the mixture resembles coarse crumbs. Drizzle 2 to 3 tablespoons ice water over flour. Toss mixture with a fork to moisten, adding more water until dough comes together. Gently gather dough particles together into a ball. Wrap in plastic wrap, flatten into a disk, and chill for at least 30 minutes.