Do you ever waste a lot of time looking at recipes? Like a LOT of time? Because I do... on a daily basis.
My little girl will go down for a nap and I'll have this mental list of all the things I want to get done in my hour of freedom. Cleaning, paying bills, organizing, etc, etc. Then I decide I'm going to "quickly" check my email first... next thing I know I hear crying and I realize I've spent the entire naptime online looking at recipes. Ahhh, again?... really Summer?
So Thanksgiving is coming up, which means I am wasting about double the amount of time looking at recipes. I'm not even bringing the turkey, yet I have 10 different variations currently bookmarked. I mean there is the basic salt and pepper but then we get into brining flavors, injection sauces, dry rubs, compound butters, glazes...
One of the things I
am
actually making though is a trifle. (for those strange people who don't like pie, cough cough,
husband
) How I always manage to make sure I am assigned a dessert I don't know, but it takes skill. It lets me feel justified in stocking up my kitchen with butter, sugar, cream, chocolate, and more butter. My grocery store trips are recently confined to the baking aisle... with the occasional trip to the ice cream section. But I digress. My point is that I can't make up my mind of what kind of trifle I want to make and I am wasting a lot of time researching my options. I am currently deciding between the following seasonal flavors:
- Pumpkin cheesecake trifle
- Pumpkin gingerbread trifle
- Eggnog gingerbread trifle
- Butterscotch gingerbread trifle
- Red velvet cream cheese trifle
All so similar yet so different! I can't decide!!!
Ok, all that aside, today's delicious krispy morsel is a truly seasonal flavor. Gingerbread. Mmmm, I feel like no one truly appreciates the beauty of gingerbread. I swear I could eat gingerbread cookies all year, but I only think about making them during the holidays. Oh well.
Anyhoo, get your gingerbread kick this season through these babies. I used a gingerbread mix for the flavor base, then added a bit of molasses just because I can. If you really want some extra spice feel free to toss in an additional 1/4 tsp of cinnamon or ginger. Yum! Ok, that's that.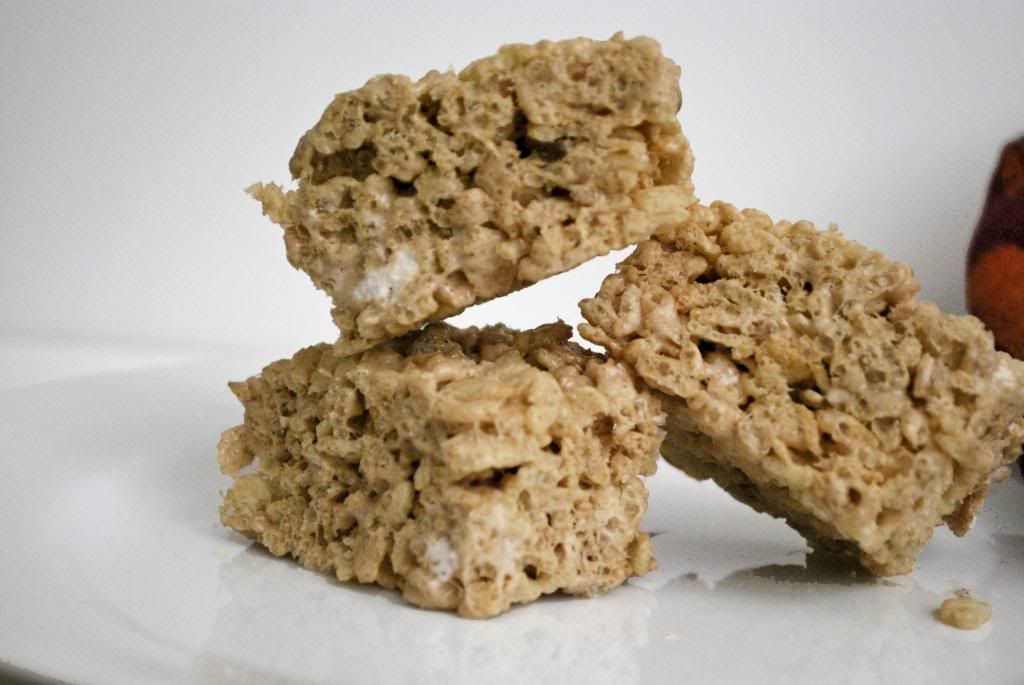 Gingerbread Rice Krispy Treats
4 Tbsp butter
6 cup marshmallows**
1/3 cup (heaping) dry gingerbread mix (
I used betty Crocker
)
1 tsp molasses
6 cup krispies
Pour the rice krispies i
n a large mixing bowl
. Set aside.
Melt the butter in a saucepan over medium heat. Once melted, turn the heat down to the lowest setting and add the marshmallows. Stir until the marshmallows are mostly all melted (this will take a few minutes--low and slow is key for perfect texture) then stir in the gingerbread mix and molasses.
Once fully melted, take them off heat and pour over the rice krispies. Stir lightly to combine. Dump everything into a greased 9x9 pan. Let it sit for about 5 minutes, then with greased hands go in and flatten the top. Allow them to cool about 20 minutes.
**So I searched high and low for the famous
"Gingerbread marshmallows"
but couldn't find them. So I had to stick with the normal ones. However if you are blessed enough to find these goodies I highly recommend you use them to really pump up the gingerbread flavor. Then call me and let me know where you found them. Pronto.