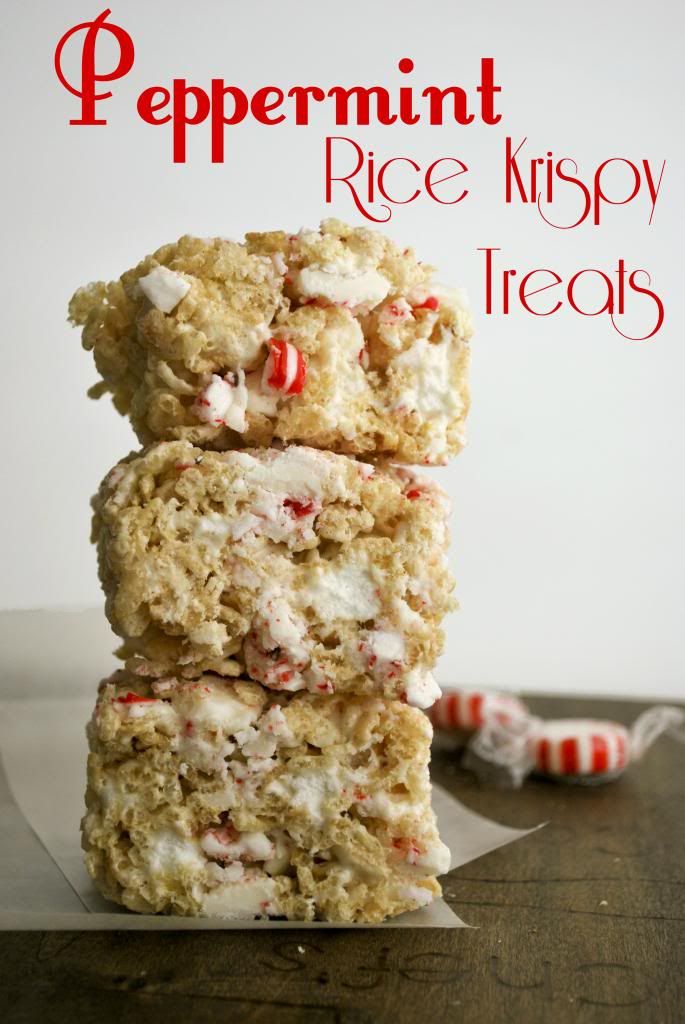 So... some girls from my church recently talked me into doing a half marathon. I don't know how it happened. One minute I was sitting happily at a 1 year old's birthday party, pretending to feed my little one the treats while secretly eating them myself, when next thing I knew I was discussing mile times and running gear with the other moms there. By the time I got home I had committed to a 2 month training program and half marathon with these girls. Wait! What just happened? All I wanted was see the birthday girl open our Mr. Potato Head present and eat a piece of cake! How am I now signed up for a stinking half marathon!?! I walked in the door in a semi daze and informed my husband I'm never going to another birthday party again.
I hate running. In high school for some odd reason I joined the cross country team. And the best part is I did it 2 years in a row before I got smart and quit. I never understood my teammates, it's like they enjoyed torture. I remember running along the side of the road after school, seeing friends drive past, enjoying their afternoons, and thinking, "What am I doing? Why am I putting myself through this?" Ahhh... don't ask me. I should've just joined to chess team or something.
Anyways back to this half marathon business. I've been trying to think of a good reason to stop but I feel lame backing out now. Especially because all these other girls are so gun ho about the whole thing. So far I've managed to keep my training to the most minimal possible and found every reason to miss a run. (Oh it's thanksgiving this week, it looks cold this morning, I have to wash my hair...?) But even then it's miserable. I'm thinking of making one of those paper chains to count how many weeks I got left.
But because I'm such an optimistic person, I have found a way to put a positive spin on this whole thing. Since I am working out more, I can obviously eat more, right? Whoo hoo! Win-win! Bring on the rice krispy treats.
So since I love peppermint, and it happens to be the holiday season, I took the opportunity to make myself a jumbo pan of peppermint rice krispy treats after my last run! Yum-o!
Crushed candy canes? Check.
White chocolate bark? Check.
Butter? Check.
Mallows? Check.
Bowl of pumpkin ice cream on the side while making these? (for sustenance) Check.
Ah, now just 6 more weeks of running to go....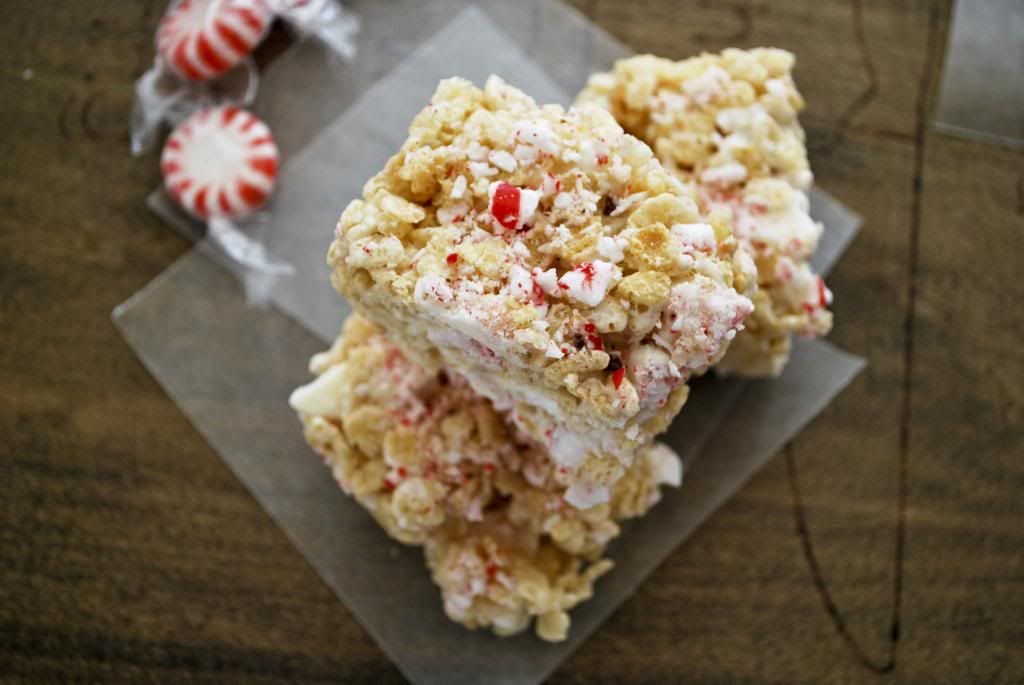 Peppermint Bark Rice Krispy Treats
3 Tbsp butter
6 cups marshmallows
1/2 tsp peppermint extract
6 cups krispies
1 recipe of Peppermint Bark (recipe below)
Pour the rice krispies and broken up peppermint bark i
n a large mixing bowl
. Set aside.

Melt the butter in a saucepan over medium heat. Once melted t
urn the heat down to the lowest setting and add the marshmallows and peppermint. Stir until the marshmallows are mostly all melted (this will take a few minutes--low and slow is key for perfect texture).
Once fully melted, take them off heat and pour over the rice krispies. Stir lightly to combine. Dump everything into a greased 9x9 pan. Let it sit for about 5 minutes, then with greased hands go in and flatten the top. Allow them to cool about 20 minutes. Enjoy!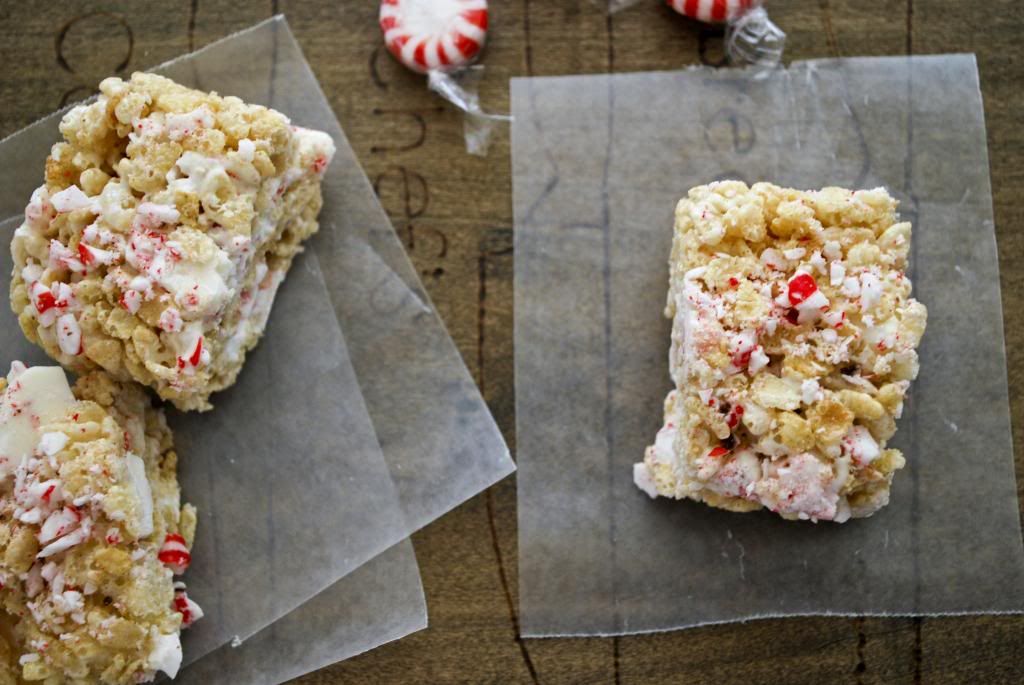 Peppermint Bark
5 squares Almond Bark (vanilla flavored)
1/2 tsp canola oil
3-4 candy canes, crushed (I suggest really pulverizing them, you don't want to bite into big chunks of hard candy canes... unless you do. In which case leave the big chunks)
Chop up the almond bark and place it and the oil in a microwave safe bowl. Microwave in 30 second intervals, stirring after each one until bark is totally melted.
Once melted spread out on a sheet of wax paper into a thin layer. Sprinkle your crushed candy canes all over until totally covered. Let sit about 20 minutes until the bark is hard again. Then you can break it up into small pieces with your hands.