I hope everyone has enjoyed the holidays and eaten as much food as I have lately. Because we've been eating buffet style for pretty much the last 96 hours straight. #startingadiettommorow #ispumpkinpieaveggie?
Now all we have left is the hooplaw of New Years! There was once a time when I stayed up late for things like New Years Eve. Now I'm lucky if I can stay awake for the 10 o' clock news. I'm officially an old mom. (And I have proof too. I was going into Babies R Us the other day and I saw this lady in front of me. I noticed she was wearing yoga pants, a big t-shirt, and running shoes and I was thinking, "that is
totally
a mom outfit." Then I caught my reflection in the window and realized I was wearing The. Exact. Same. Thing... I almost turned around and went home...)
Anyways I'm pretty sure I'm going to be bringing in 2013 with New York despite the fact that I live in California. But that doesn't mean I can't party as much at 9pm as I would at 12am, right? And you can't have a party without some delicious treats right? Right.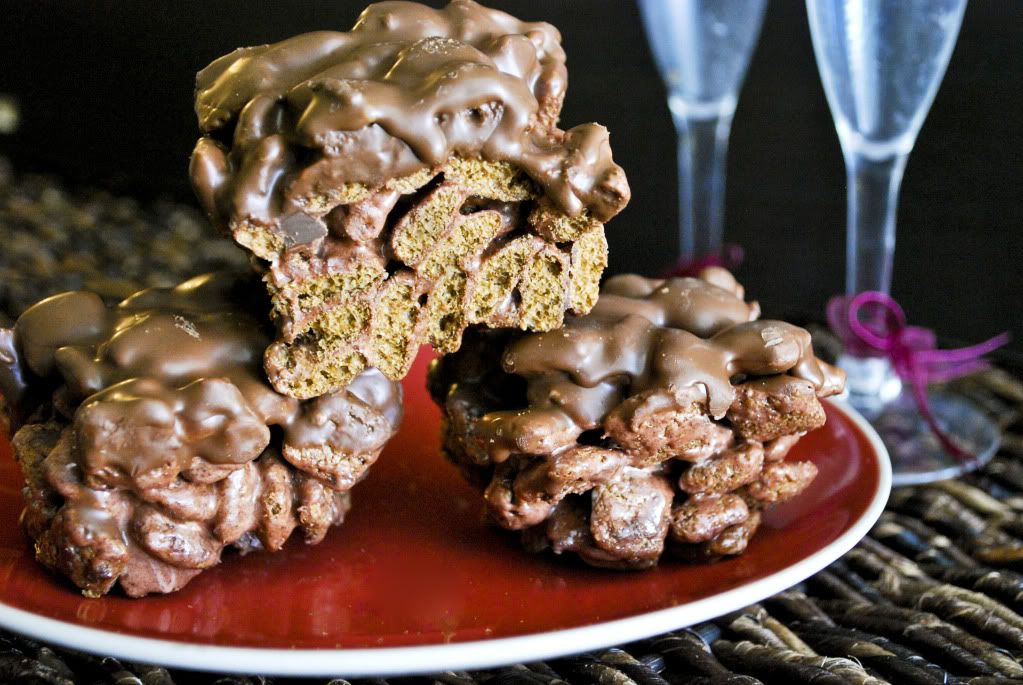 So we are kicking off 2013 with something I believe every year should start with: chocolate. Midnight
Dark Chocolate
Brownie
Cocoa
Truffle Rice Krispy Treats. (my husband and I've been discussing a name for these for the last 20 minutes and finally decided on "Truffle".... although he was watching a basketball game the whole time so realistically I was having the discussion with myself) If you have any smidgen of love for chocolate you need to make these. Their taste is over the top in that messy, gooey way... but don't worry, the ganache topping totally keeps things classy. Trust me, people will be singing you praises all the night long for these babies. The cheese and cracker platter will be passed up like it's not even there. Chips and salsa? Old news. And the veggie platter... don't even get me started. Who brings a veggie platter to a party? Honestly people, where are your standards? If nothing else, simply the desire to keep eating these will keep you awake until midnight! Win-win!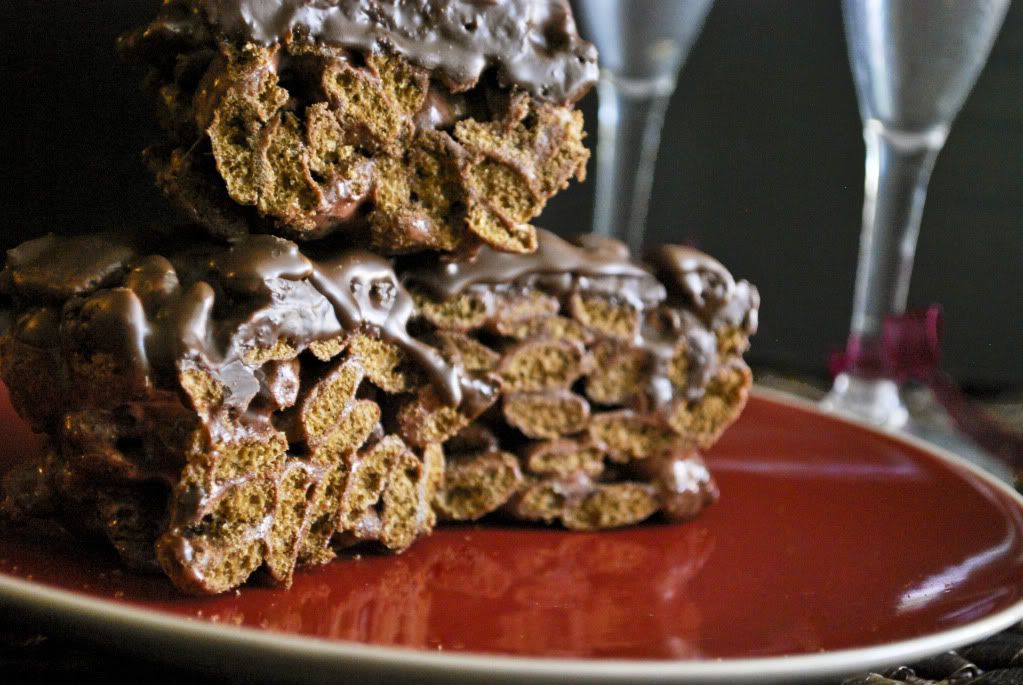 Midnight Truffle Rice Krispy Treats
4 Tbsp butter
6 cups marshmallows
1 (3.4 oz) chocolate pudding mix
1 tsp vanilla extract
6 cups
Cocoa Puffs Brownie Crunch
(if you have to you can use cocoa krispies... but this Brownie Crunch really makes them awesome!)
1 cup chocolate chips
Chocolate Ganache Topping (recipe below)
In a large mixing bowl combine the Brownie Crunch cereal and chocolate chips. Set aside.
Melt the butter in a saucepan over medium heat. Once it's melted, turn the heat down to the lowest setting and add the marshmallows. Stir until the marshmallows are mostly all melted (this will take a few minutes--low and slow is key for perfect texture) then stir in the dry pudding mix and vanilla.
Once fully melted, take them off heat and pour over the cereal mixture. Stir lightly to combine. Dump
the mixture into a greased 9x9 (or these could go into a 9x13... they'd just be a little thinner) pan.
Let it sit for about 5 minutes, then with greased hands go in and flatten the top. Allow them to cool 20 minutes, then pour the ganache topping over top--completely covering the treats. Allow to set then cut and serve.
Enjoy!
Chocolate Ganache Topping
1 1/4 cups chocolate chips
1/2 tsp oil
Melt chocolate chips and oil together in a microwave at 30 second intervals, stirring between each one. Continue until totally melted and smooth.