It being a new year and all that I have something to admit today: I am a bad mom.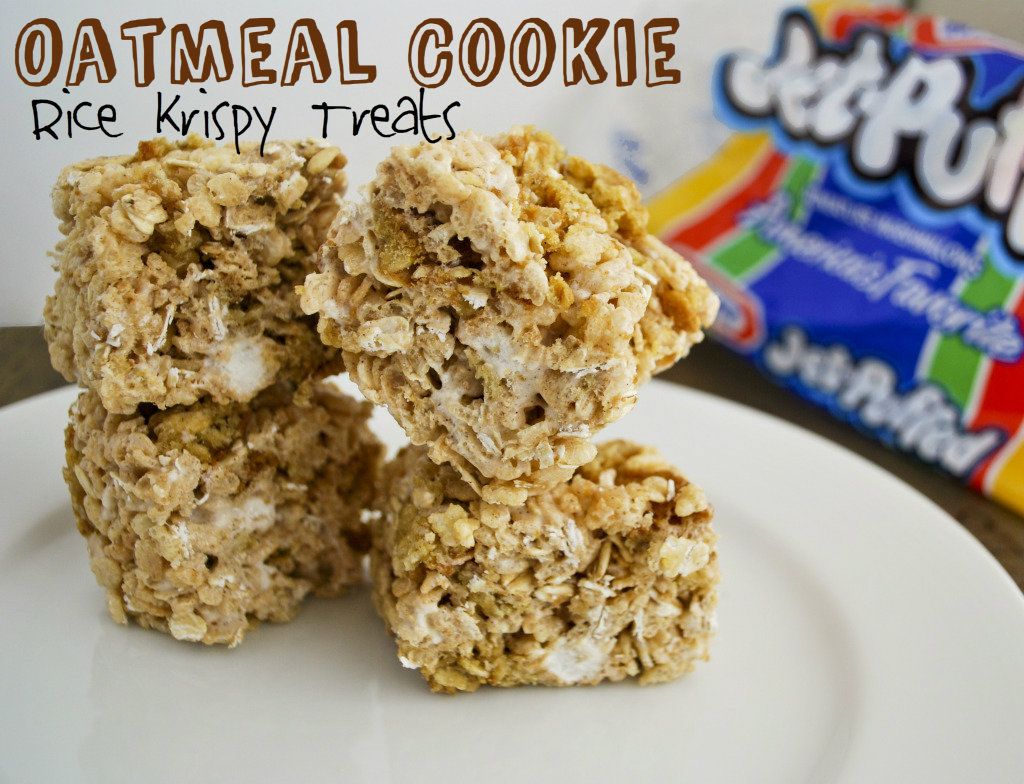 Have you ever seen What to Expect When You're Expecting? (if you haven't just go watch the 2 min trailer and save yourself an hour and a half) Anyways in it there's this boys club of dads who get together and share all their fatherly mishaps of the week. I feel like I need a club like that. Somewhere to confess all my motherhood mistakes and turn a new leaf. Enter my blog.
Here's my list of recent Confessions:
1.) I feed my daughter Peanut Butter Cheerios despite the fact that kids are not supposed to have peanut butter until they are 1. If she becomes allergic I'll never live it down.
2.) When my daughter started learning to roll she rolled right off my bed once. Luckily she landed on a pile of pillows but I'm pretty sure this still qualifies me as the worst mom ever. I have only just recently got up the guts to tell my husband about it... 4 months later.
3.) I let my daughter chew on my keys. Yes, the who-knows-where-they've-been keys. I can't help it, it's a guaranteed 15 minutes of peace.
4.) I'm pretty sure the first real food she ever tasted was ice cream, courtesy of one of mom's late night snacks. And it may have been peanut butter flavored at that. (#doublefail)
5.) Spit up on the floor? I'd have to say about 75% of the time I end up just rubbing it into the carpet. Terrible? Yes.
6.) Speaking of things on the floor… I'm a firm believer in the
10
15
60 second rule.
7.) Finally, I eat my daughter's treats. Currently I'm digging the yogurt drops but I won't say no to a Peach or Strawberry flavored puff either.
Whew. Glad I got all that off my shoulders. There's probably more, but I'll spare you for now.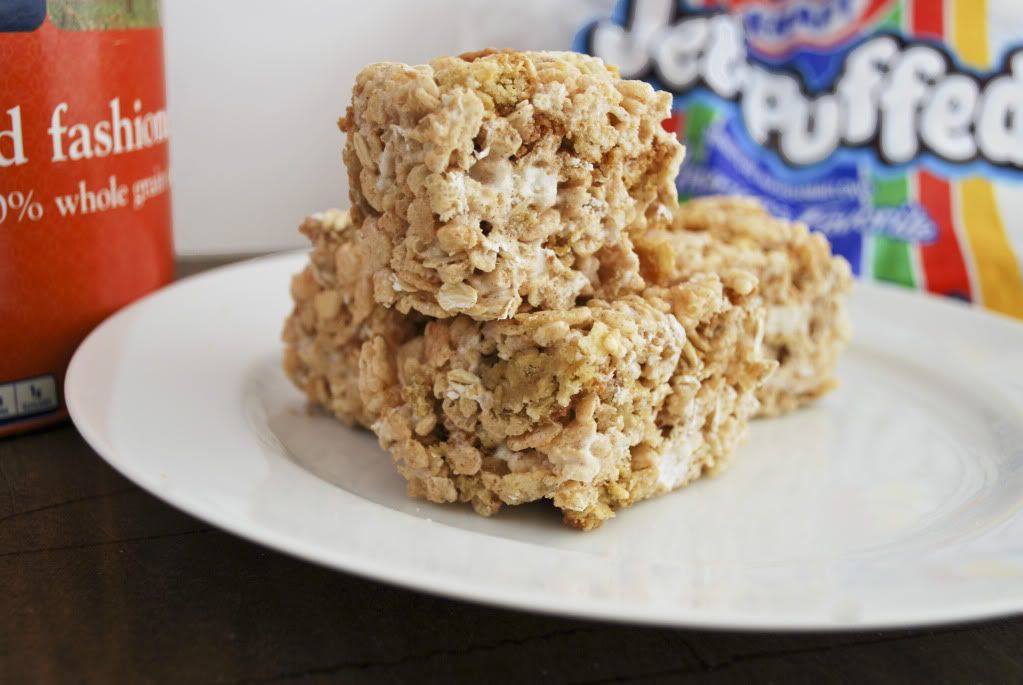 So since I am trying to change my image in 2013 and become a good mom, I am bringing you a healthy rice krispy treat. (well, relatively - I mean you can only make a rice krispy treat so healthy) The Oatmeal Cookie Rice Krispy Treat! You'll get some hearty fiber from the oats...? Moving past the question of whether this is actually healthy or not they
are
very delicious. You get that brown sugar oatmealyness right in the treats themselves, then the addition of actual oatmeal cookies just tips it over the top! Go make these. And just assume they are healthy as you give them to your kids have seconds and thirds yourself...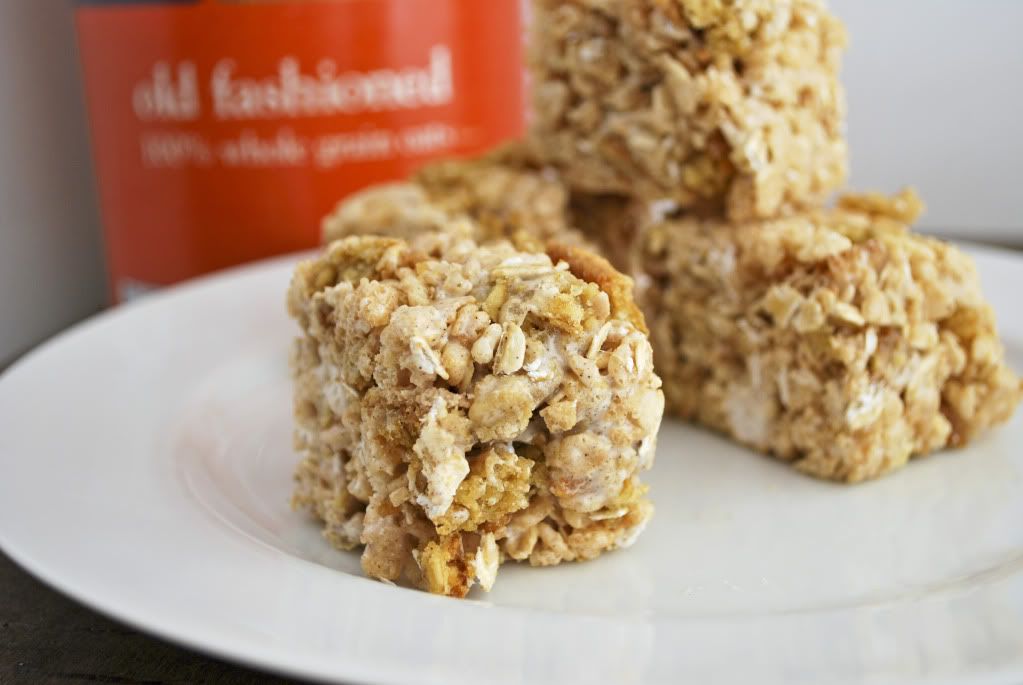 Oatmeal Cookie Rice Krispy Treats
4 Tbsp butter
1/2 Tbsp brown sugar
6 1/2 cups marshmallows
1 tsp cinnamon
1 tsp vanilla extract
5 cups rice krispies
1 cup Old Fashioned Oats
6-8 chopped oatmeal cookies (homemade or store bought... I won't judge. But if you buy them make sure they are soft)
In a large mixing bowl combine the rice krispies, oats, and cookie pieces. Set aside.
Melt the butter and brown sugar in a saucepan over medium heat. Once it's melted, turn the heat down to the lowest setting and add the marshmallows. Stir until the marshmallows are mostly all melted (this will take a few minutes--low and slow is key for perfect texture) then stir in the cinnamon and vanilla.
Once fully melted, take them off heat and pour over the rice krispy mixture. Stir lightly to combine. Dump
the mixture into a greased 9x9 pan.
Let it sit for about 5 minutes, then with greased hands go in and flatten the top. Allow them to cool 20 minutes or so before cutting and serving.
Enjoy!