I feel like Apple Cider is the classier version of apple juice. The Grey Poupon of yellow mustard. The Filet Mignon of gound beef. High Class.
Like when you're on an airplane and apple juice is always one of the beverages offered--I'm pretty sure that in first class they are offering apple cider instead of apple juice... probably in a fluted glass, with pebble ice... I'm going to make it up there one day.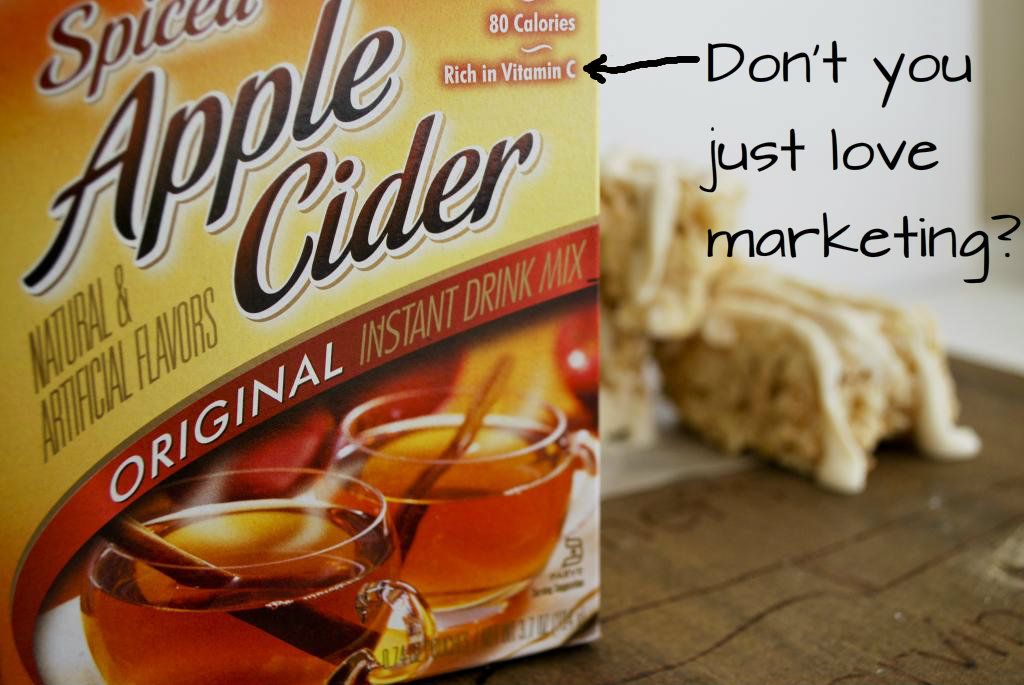 Now really I am not a huge fan of apple cider. I feel like it's too sugary, which I know must sound ironic coming from me. But I normally stick to eating my sugar instead of drinking it. (Unless we are talking about milkshakes... I guess technically that's drinking although I feel like that lies somewhere in no man's land between eating and drinking... drinting? eaking? I'll get back to you)
So Apple Cider. Regardless of whether it's my favorite or not it is a classic holiday drink that must have it's moment in a rice krispy treat. And since that's what I do best, wha-la! Apple Cider Rice Krispies!
These guys get a flavor boost from some apple cider mix melted into the mallows. Then a final cidery touch in a white chocolate drizzle. Mmmmmm... it's time to light the fire and play some Christmas music!
Apple Cider Rice Krispy Treats
3 Tbsp butter
2 packets of apple cider mix
6 cups marshmallows
6 cups krispies
White Chocolate Apple Cider Drizzle (recipe below)
Pour the rice krispies i
n a large mixing bowl
. Set aside.

Melt the butter in a saucepan over medium high heat until melted.
Turn the heat down to the lowest setting and add the marshmallows. Stir until the marshmallows are mostly all melted (this will take a few minutes--low and slow is key for perfect texture). Add in the apple cider mixes and finish melting.
Once fully melted, take them off heat and pour over the rice krispies. Stir lightly to combine. Dump everything into a greased 9x9 pan. Let it sit for about 5 minutes, then with greased hands go in and flatten the top. Top with white chocolate drizzle. Allow them to cool about 20 minutes. Enjoy!
White Chocolate Apple Cider Drizzle
4 squares vanilla flavored Almond Bark, chopped up
1 tsp canola oil
1 Tbsp of apple cider mix
Mix the almond bark and oil in a microwave safe bowl. Heat in 30 second intervals, stirring in between each until it is melted. Add in the cider mix and stir well. Heat in microwave an extra 10-15 seconds to help dissolve some of the sugar granules of the cider mix.