Cheesecake and rice krispy treats? Together? No way, get out of town.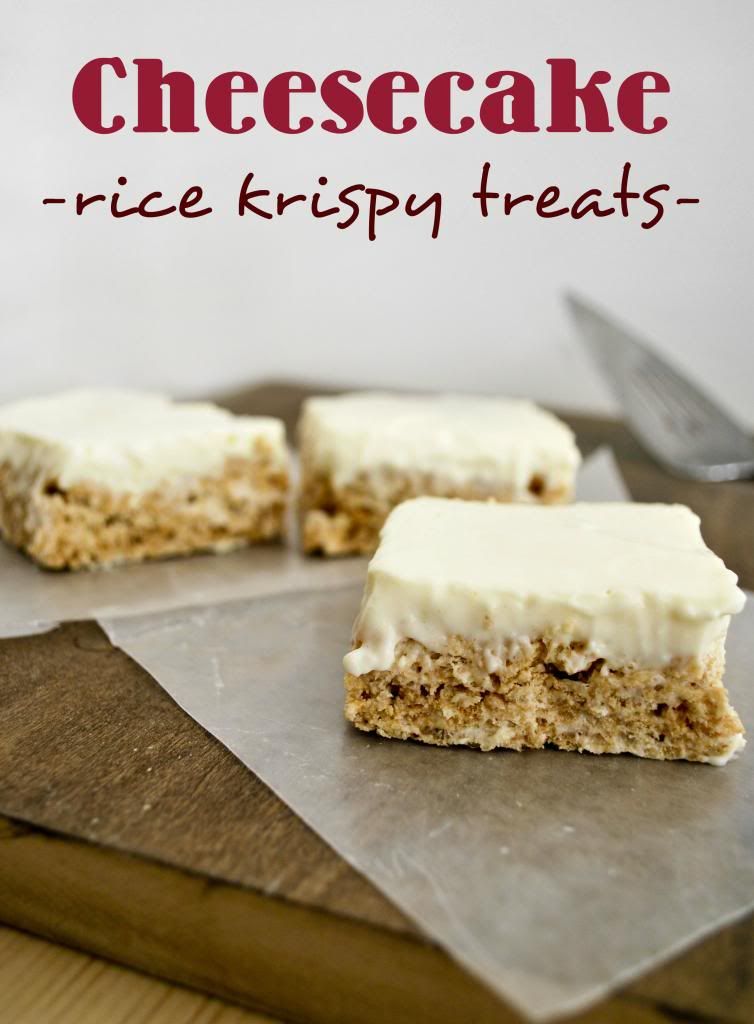 Can I actually be honest with you? I am not that huge of a cheesecake fan. Don't get me wrong. You place a piece in front of me and I will eat it, it's just that if I had choice of desserts, cheesecake would be low on the totem pole. (Unless we are talking about
Adam's Peanut Butter Cup Fudge Ripple
from the Cheesecake Factory. Realistically it's about 85% peanut butter and 15% cheesecake, but I can devour that baby in 2 minutes flat. As a matter of fact I did once while I was 7 months pregnant. Which I promptly threw up 30 minutes later... moving on)
So despite my tepid relationship with cheesecake, I decided it needed to become a rice krispy. Especially during Valentines Day. It's just seems like a lovey dovey dessert. But how could it be done? After a few failed attempts my friends I have got it. This is a krispy bomb of goodness. The krispy layer is packed full of graham cracker crumbs to mimic a traditional cheesecake crust. Yum-o! Then you get the real punch from a creamy, cheesecake layer on top of that. Wowzer!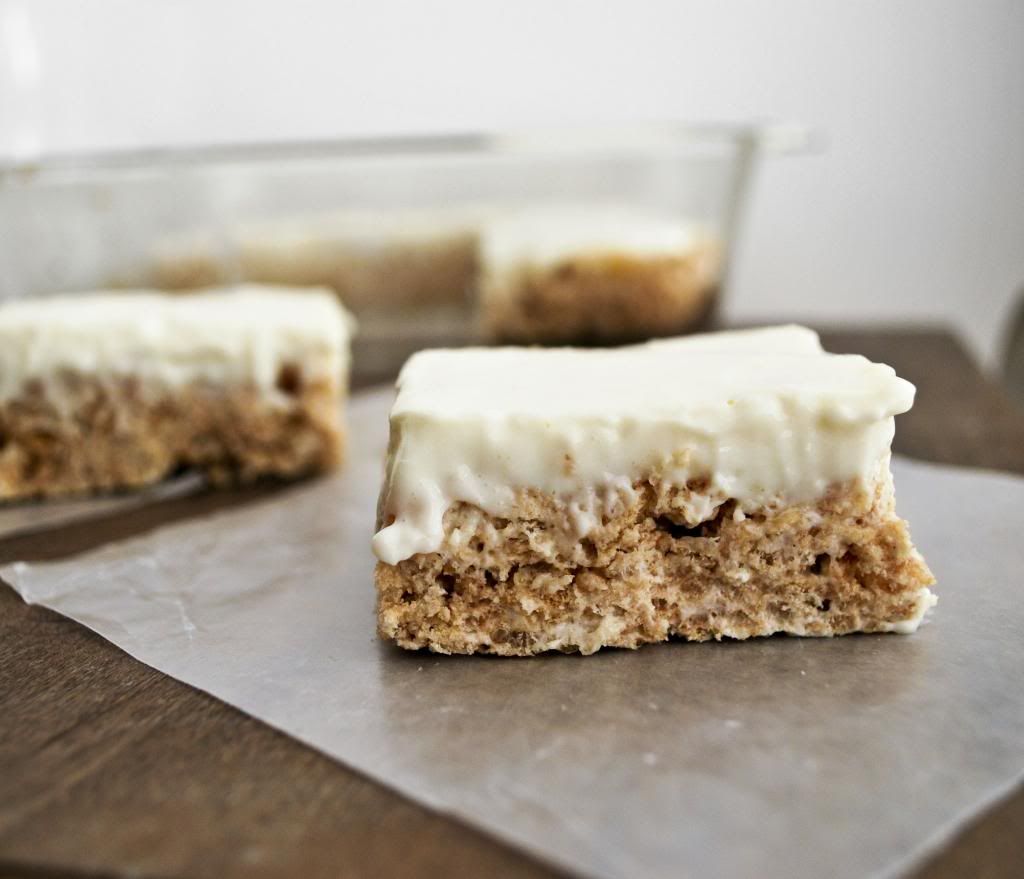 And just for all those who have an internal fear of baking cheesecakes, this is a simple, no bake version! (I understand your fears. When my husband and I were dating I decided to go big and make him a cheesecake for his birthday. However, while it was baking in the oven I managed to lock myself out of my apartment... and then spent 2 hours trying to find a roommate to let me back in... needless to say I don't suggest baking a cheesecake for 3 hours)
Anyhoo, I highly recommend this rice krispy. I highly recommend all my rice krispies actually. But this one especially. It's such a perfect combo of sweet, creamy, cheezy (cheesy?... cheezy?.... I just spent 5 minutes trying to decide between these two) flavors. I don't know what else to say about it.I think the pictures speak for themselves. Go try it. Just do it,
Nike style.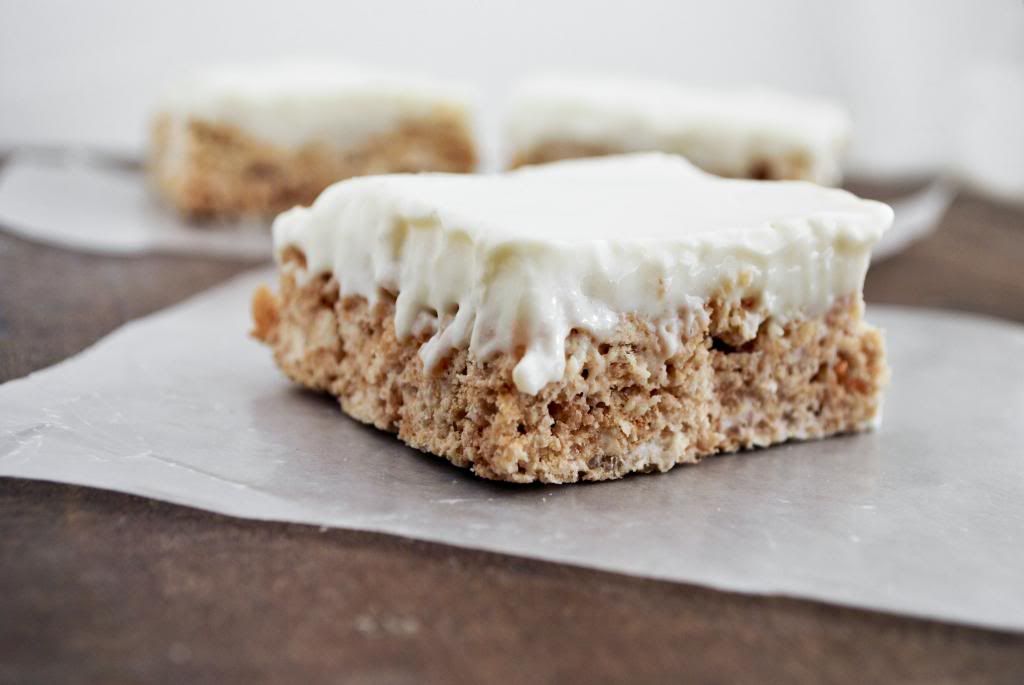 Cheesecake
Rice Krispy Treats
4 Tbsp butter
5 cups marshmallows
1 tsp vanilla
8 whole graham cracker rectangles, crushed
3 cups rice krispies
1 (8 oz) package cream cheese, softened
1 (14 ounce) can sweetened condensed milk
1/3 cup lemon juice
1 teaspoon vanilla
Chocolate Syrup for drizzling
(optional - of course, after I finished taking pictures of this treat my husband informed me he thought they were too cheesy. Too cheesy? It's called cheesecake. It's supposed to be cheesy. Ah... so to appease him I drizzled them with chocolate syrup. But the only picture I got with it is below. This was way more information than you needed: The chocolate syrup is an optional garnish for those whole feel the CHEESEcake layer is too cheesy.)
Rice Krispy "Crust" Layer:
Mix the rice krispies and crushed graham crackers in a large mixing bowl and set aside.
Melt the butter in a saucepan over low heat. Once it's melted add in the marshmallows. Stir until the marshmallows are mostly all melted (this will take a few minutes--low and slow is key for perfect texture) then stir in the vanilla
.
Once fully melted, take them off heat and pour over the rice krispy mixture. Stir lightly to combine, then dump into a greased 9x13 pan. Allow to cool 5 minutes, then press into pan with greased hands. Allow to cool completely.
Cheesecake Layer:
Place softened cream cheese in a mixing bowl; add condensed milk, lemon juice, and vanilla. Beat until well blended. Pour on top of the cooled rice krispies and allow to set in the fridge for about 3 hours. Top with chocolate topping if you want. Or leave plain if your a purist. Enjoy!
*** Side Note: If you don't end up devouring all these within the first few hours of making them, the rice krispies become a little soft from the cream cheese layer by the next day. So if you plan on having leftovers, I would recommend putting a layer of melted chocolate on top of your rice kripsies and letting that harden before pouring the cheesecake layer on top. It creates a nice seal between the krispies and cheesecake. But again, this is only if you plan on making these things last... which is pretty near impossible.