Can we talk photography for a sec? Can I just say that taking pictures of my treats is like the bane of my existence. If I could have one wish, it would be to have a professional photographer come in and do a photo shoot for me for each of my treats.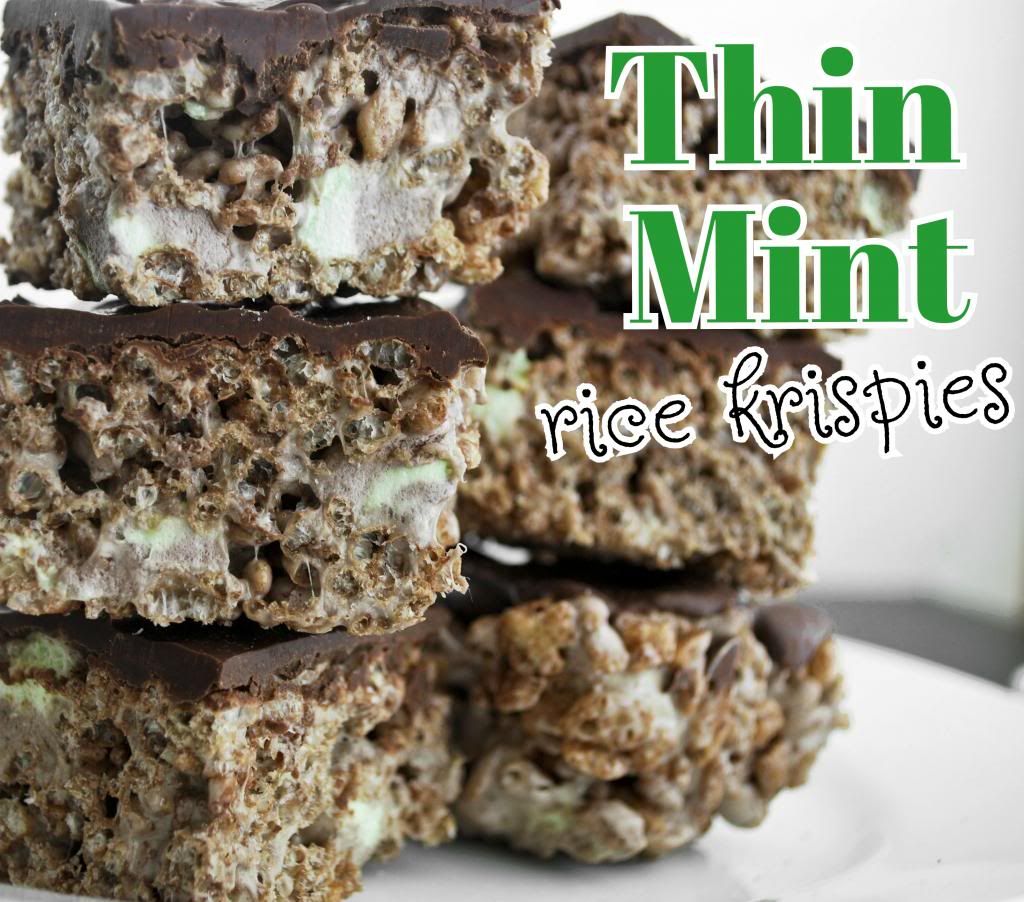 I sometimes dread writing new posts because I know that I'm going to have to do another photography session. Because no matter how lip smacking delicious something is, if it doesn't look pretty no one wants to make/eat it. Period. And rice krispy treats really just aren't the most beautiful things to take pictures of. (don't tell them I said that... we don't want any hurt feelings). So if anyone wants a free lancing photography job, I am now open for interviews. The only job requirements are that you must be willing to stand in as a rice krispy taste tester and you must be able to shoot pictures while maneuvering around a 10 month old who has a serious fascination with tripods.
Anyhoo, sniff sniff. Enough pity talk. Let's talk about something important. Girl Scout Cookies. Ya, it's that time of year again. When those little cuties traipse down your street and sit outside your grocery stores in their teal uniforms, begging you to buy one of their way-to-expensive boxes of goodness. Ah... so of course you do because you have a heart. But really, as soon as you get home, you know that box of thin mints will be gone in 2 seconds and you're family will be begging for some more. What do you do? Wait for the next little saleswoman to knock on your door? Head back to the grocery store for
another box of cookies
a loaf of bread? I have a solution for you today! Thin Mint Rice Krispy Treats!
These little beauties. All the chocolate minty goodness in a pan big enough for all to have a taste! Starting with cocoa krispies gives you the mandatory chocolate base. Then the chocolate mint marshmallows combined with the mint extract add the hint of mintiness. Finally the chocolate ganache layer on top just seals the deal. Can you say delicious? Excuse me, I have a pan of rice krispies calling my name right now...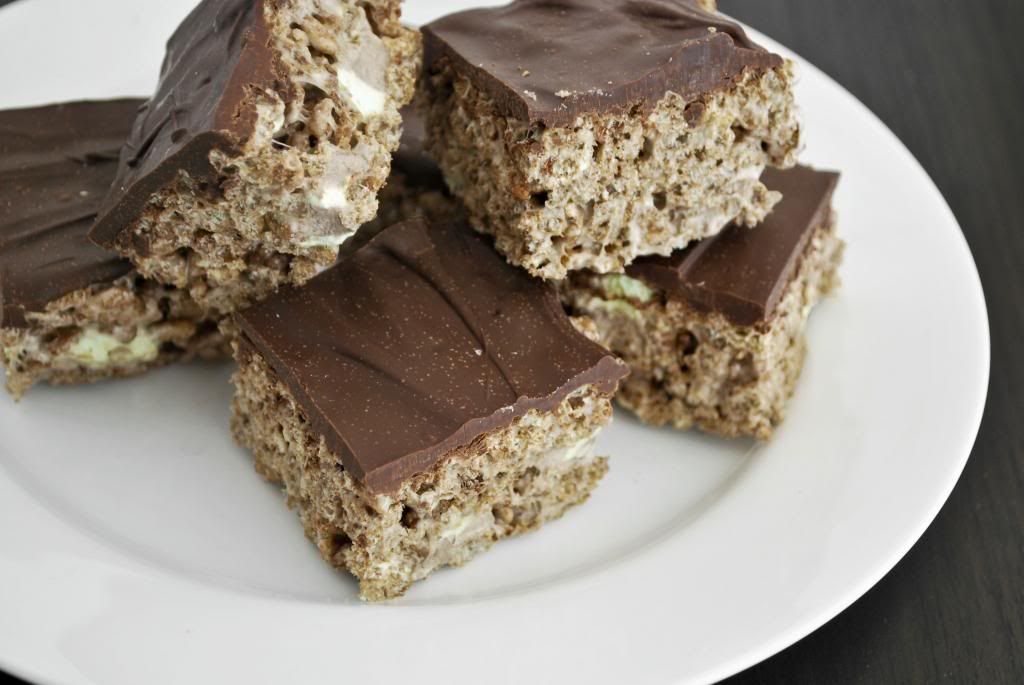 6 cups cocoa krispies
3/4 cup semi sweet chocolate chips




Pour the cocoa krispies in a large mixing bowl and set aside.

Melt the butter in a saucepan over low heat. Once it's melted add in the marshmallows. Stir until they are mostly all melted (this will take a few minutes--low and slow is key for perfect texture) then stir in the mint extract
.

Once fully melted, take them off heat and pour over the rice krispy mixture. Stir lightly to combine, then dump into a greased 9x9 pan. Allow to cool 5 minutes, then press into pan with greased hands. While they
finish
cooling, melt the chocolate in the microwave at 30 second intervals, stirring in between each one until fully melted. (adding a 1/2 tsp of oil sometimes helps with the consistency). Spread the melted chocolate over the treats. Allow to fully harden and enjoy!
**If you can't find the chocolate mint marshmallows you can just increase the mint extract to 1 full tsp