I'm walking up to the checkout line at Target the other day when I looked down at my little babe in the cart in front of me. There she is, happily kicking away with one shoe missing. Ugh. Worst Situation Ever... is it worth it traipsing back through the whole store to find it? How much did I pay for that thing anyways?...
I find myself placed in these types of situations a lot more often now that I have a child.
I was at the grocery store last week when I realized I forgot my rewards card (which I'd loaded all sorts of coupons on). Normally I might have ran home and grabbed it, but when you've got a crying 11 month old with you, that $15 of savings doesn't quite seem worth it anymore.
Or how about returning a Redbox? For some reason all the stores around me decided to collaborate and move their kiosks inside the store instead of the convenient outside locations. I always go through the mental battle of leaving my car running while I return my movie. But I just can't do it. Instead I unbuckle her, pull her out, carry her over there with me, return the movie, then carry her back, and restrap her back in (a midst the furious crying). A 2 second process just turned into a 10 minute ordeal.

Ah... good thing she's so cute. And good thing I have these Carrot Cake Rice Krispy Treats.
These things are just waiting for Easter to happen. Perfect Bunny treats for all your little snackers. Or big snackers. That cinnamony, carrot cake flavor gets mixed in with all the marshmallows as well as pumps up the chew of these treats. Then they are topped off with a yummy cream cheese frosting, because lets be honest, a good carrot cake must have a good cream cheese frosting. Finally I topped it off with a fondant carrot. Not that you need to. I was just missing the orange color. But when I asked my husband if I should put carrot actually in the treats to make them really authentic, I just got a silent stare. So I opted to put a fake one on top. Anyways, these should definitely be on your list for Easter. Or just on your list in general. 4th of July, Halloween, Christmas, they'd be good pretty much whenever. Enjoy!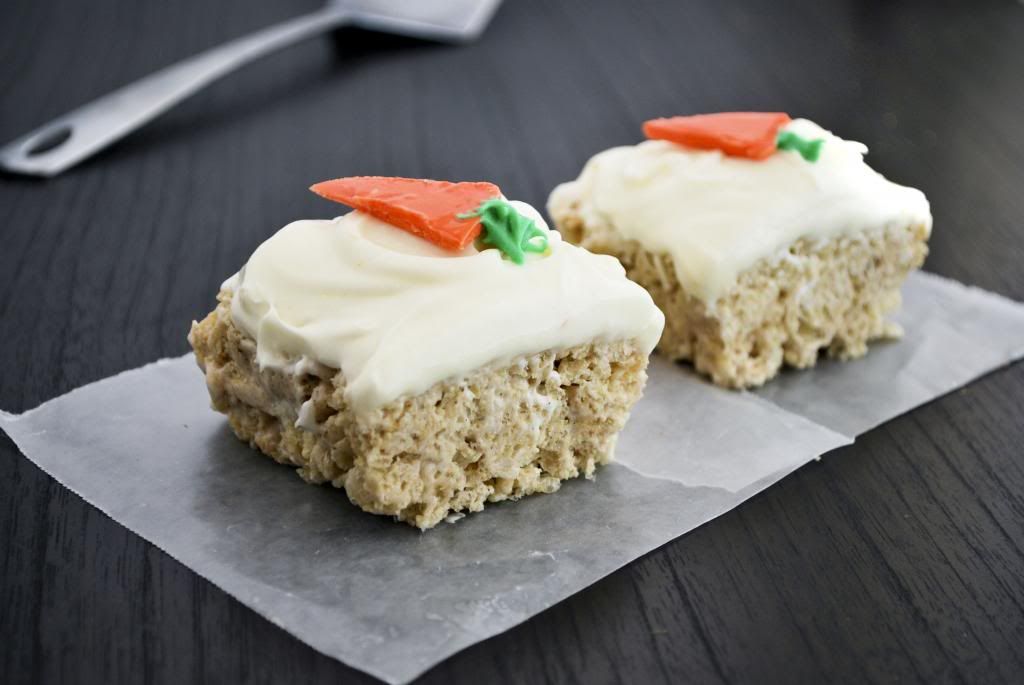 Carrot Cake Rice Krispy Treats
4 Tbsp butter
6 cups marshmallows
3/4 cup dry carrot cake mix
1 tsp vanilla extract
6 cups rice krispies
Cream Cheese Frosting (recipe below)
Pour the rice krispies in a large mixing bowl and set aside.
Melt the butter in a saucepan over low heat. Once melted add in the marshmallows. Stir until they are mostly all melted (this will take a few minutes--low and slow is key for perfect texture) then stir in the vanilla and dry cake mix
.
Once fully melted, take them off heat and pour over the rice krispies. Stir lightly to combine, then dump into a greased 9x9 pan. Allow to cool 5 minutes, then press into pan with greased hands. Allow to fully cool another 30 min then spread cream cheese frosting over top. Enjoy!
Cream Cheese Frosting
8 oz cream cheese
1/2 cup butter
1 lb powdered sugar (about 4 cups)
1 tsp vanilla extract
Beat cream cheese and butter together until smooth. Slowly add the sugar, scraping down the sides of the bowl. Add in the vanilla and beat until smooth and combined. (note: you'll probably have leftovers from this frosting... not that that's a bad thing.)