Happy Easters!
(I will never be able to say "Easter" again without a spanish accent and pluralizing it thanks to
Nacho Libre
... anyone else? No? Ok, moving on....)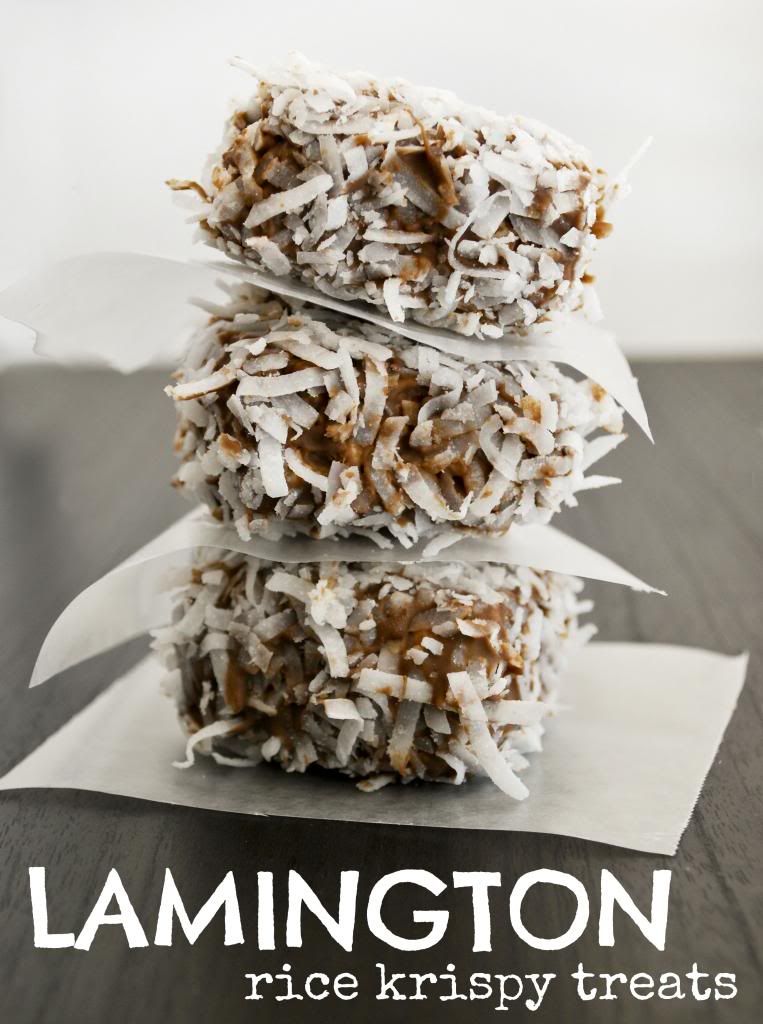 So what's the rice krispy treat of the day? Lamingtons. First off what are they? I feel like they are the Australian's answer to the petit four. Like they saw the petit four, thought it was a good idea, then realized that petit fours are the pretty much the hardest things in the world to make look attractive. So they got the bright idea to cover them up in coconut to remove the stress factor. Boom. Gold Star for the Australians. T
hey know what's up. So today I decided to take it a step further and make a rice krispy treat version.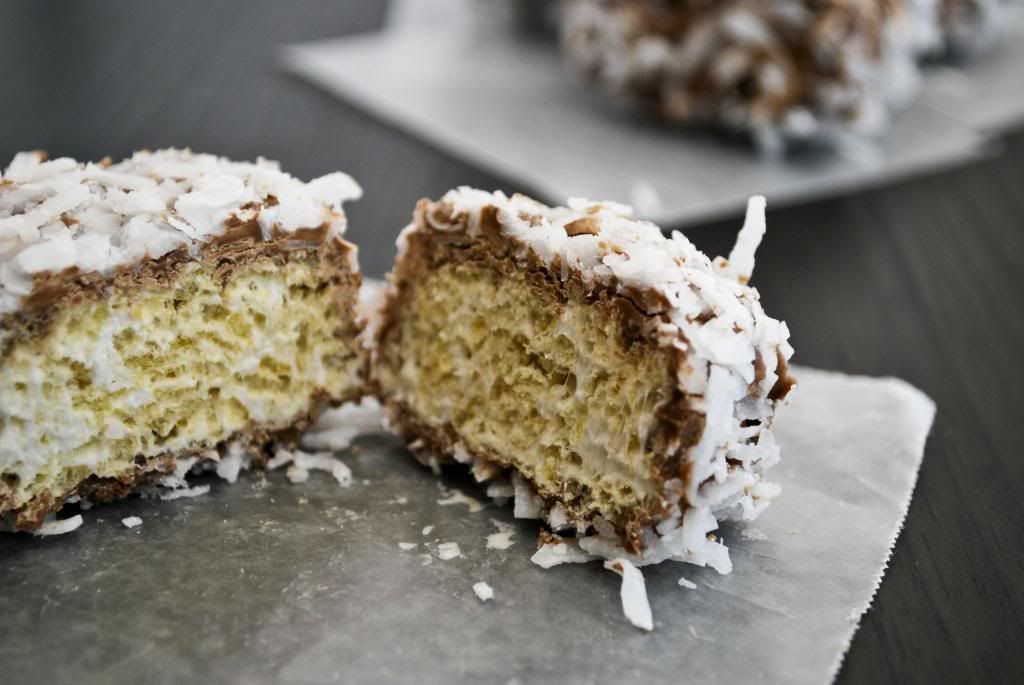 Can I just first confess that I didn't have really high hopes for these things? I mean I thought they'd be just a fun take on the traditional Lamington. Flavor wise, I wasn't expecting anything crazy. Um, hello! Boy was I wrong. These things blew my expectations out of the park. I still can't even figure out why they are so good. Is it the combo of a krispy/gooey marshmallow covered in thick chocolate? The combo of the rich chocolate and chewy coconut? The whole package??? I don't know, all I know is these were the bomb. Is that bragging to always be complimenting my own rice krispy treats? I feel like I give myself one too many pats on the back. I should include a testimonial section to my recipes:
"If I could only eat one rice krispy treat for the rest of my life, these would be it." - Dad


"So, so good! I want the recipe." - Mom


"They were coconutlicious!
- Husband (that was his response when I said I needed a quotable review of these... thanks buddy)
There we go. Validation. We'll pretend that those all weren't comments from my family members who are obligated to say nice things. But you seriously will be amazed how good these are. I was. My family was.
So do yourself a favor, go make these.
Today. Right now. Don't think about it. Close you computer (but first write down this recipe), go to your kitchen, and whip a batch of these. You'll be done in 20 minutes. Ready, set, go!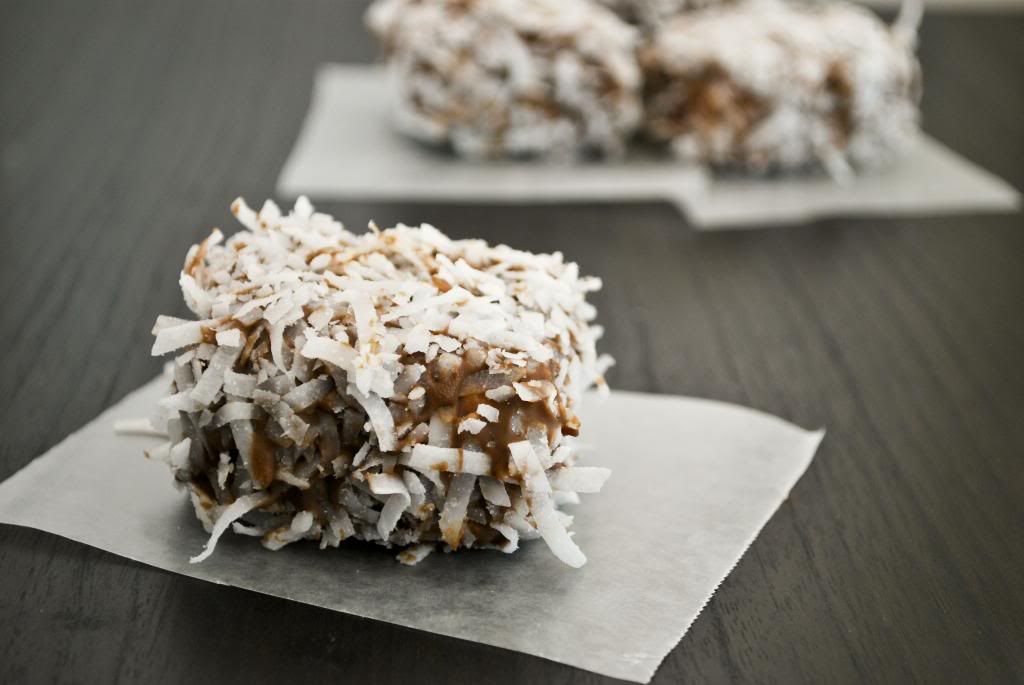 Lamington Rice Krispy Treats
5 Tbsp butter
6 cup marshmallows
1 tsp vanilla
3/4 cup dry white cake mix


6 cup rice krispies
1 cup chocolate chips or chocolate almond bark
3-4 cups sweetened shredded coconut
Pour the rice krispies into a large mixing bowl and s
et aside.
Melt the butter in a saucepan over medium heat. Once the butter is melted, turn the heat down to low and add the marshmallows. Stir until the marshmallows are mostly all melted (this will take a few minutes--low and slow is key for perfect texture) then
stir in the
vanilla and cake mix.
Once fully melted, take them off heat and pour over the rice krispies. Stir lightly to combine. Dump
the mixture into a greased 9x9 pan and set in
fridge
to cool for about 20 minutes (they are easier to cut into perfect squares when really cold).
Meanwhile, m
elt your chocolate and oil in the microwave in 20 second intervals, stirring in between each until fully melted. Also pour your coconut into a separate bowl.
Now, take your chilled rice krispy treats and cut into perfect squares ;) Dip each square into the melted chocolate, completely coating all sides, then roll around it in your shredded coconut. Set aside to harden. Repeat with all squares. Enjoy!