I am slightly disgruntled right now. It just so happens that I spent an afternoon whipping up and photographing 2 new rice krispy treats, only to put my memory card in my computer later that evening to find 0 pictures. None. I don't know what happened. It's like I never even took them! Was I dreaming? I could see crumbs on my photo shoot area so I knew I actually did take the pictures. And I couldn't even go back and retake them because all the rice krispy treats had already been eaten. Lame.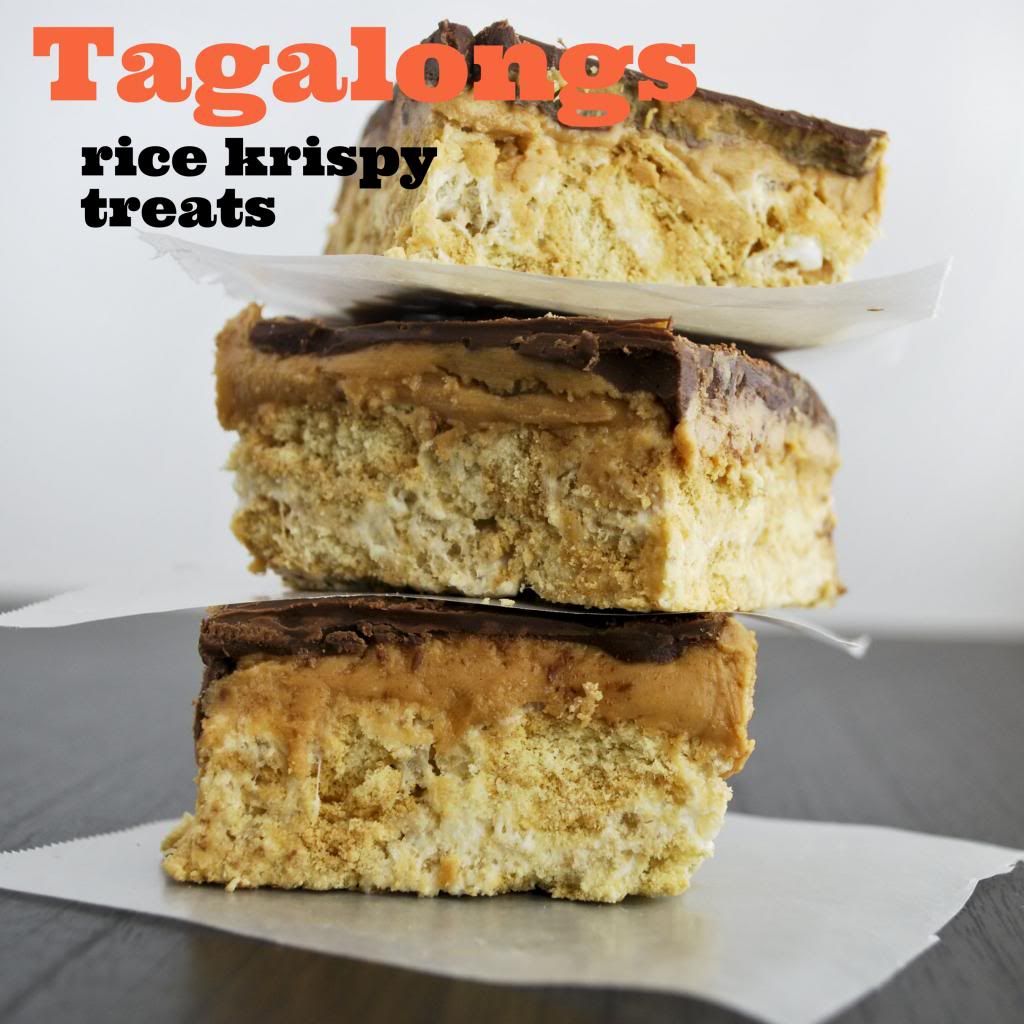 So today I decided to suck it up and remake them, retake the pictures, etc, etc. Realistically I wasn't so bugged about having to make these again. Because they are Delicious. Deeliiicious. But I'll get to the drool worthy description later. What bugged me was having to retake the dang pictures because we all know how much I hate
photography
. Ah, woe is me. Ok, enough complaining. On to the important things.
Tagalongs. You knew it was coming. There's no way a self-proclaimed
peanut
butter
addict
like myself was going to make both
Thin Mint
and
Samoa
Rice Krispy versions and
not
make a Tagalongs version as well. It just has to be done. Period.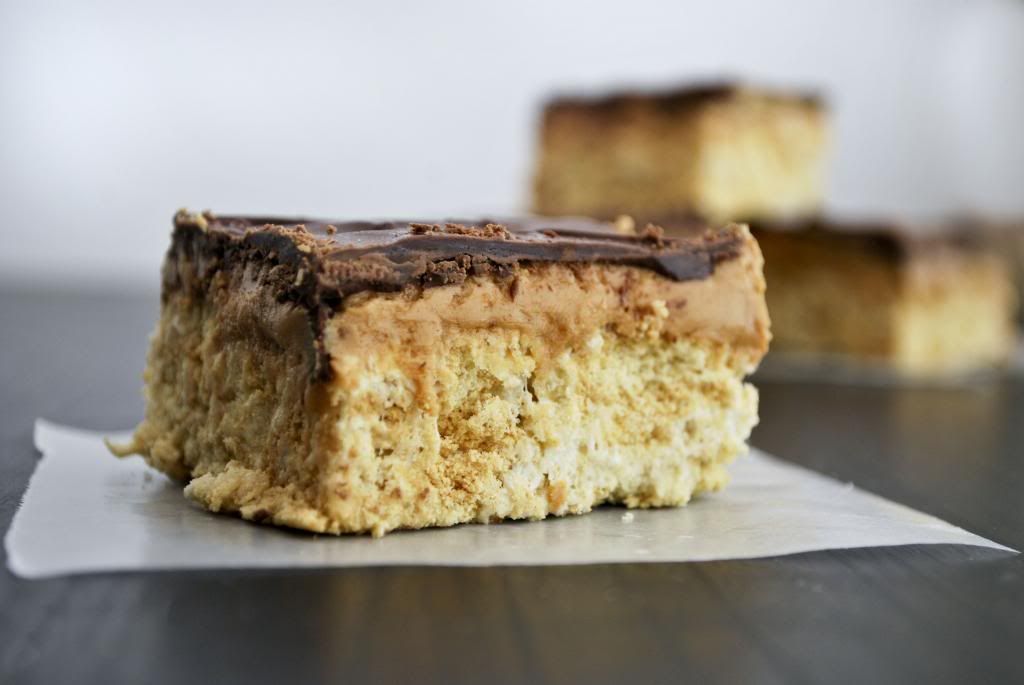 Now that the girl scout cookie craze is past for the year, you can use these beauties to get you through the next 11 month dry spell. T
hose of you in cookie relapse, don't worry, I got you covered.
The base of these treats are a mix of crushed shortbread cookies and
rice krispies to mimic the shortbread crust of Tagalongs. Then there is a thick peanut buttery layer that you may just want to double so there is enough left over for your treats after you are done picking at it. Yum. Think the inside of a Reese's Peanut Butter cup. Then on top is a thick chocolate layer. Because
you can't have peanut butter without chocolate.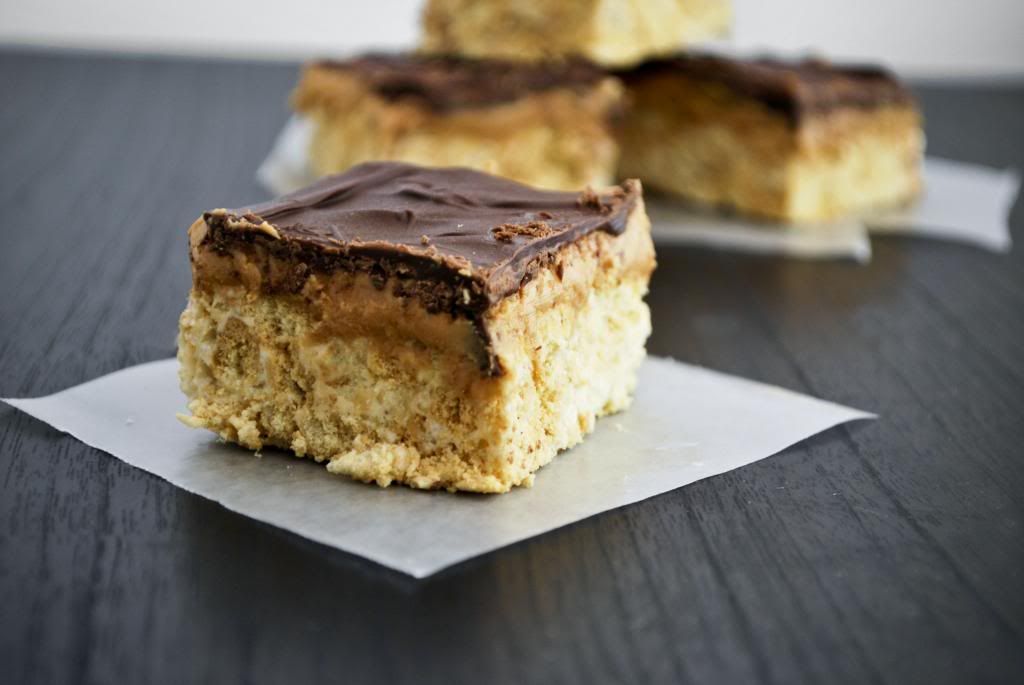 Ah, so now that I am slightly comatose from the amount of peanut butter I've eaten lately, I think I'm going to go lay down. Even I can only take so much. But you guys need to get yourselves into the kitchen to make these today!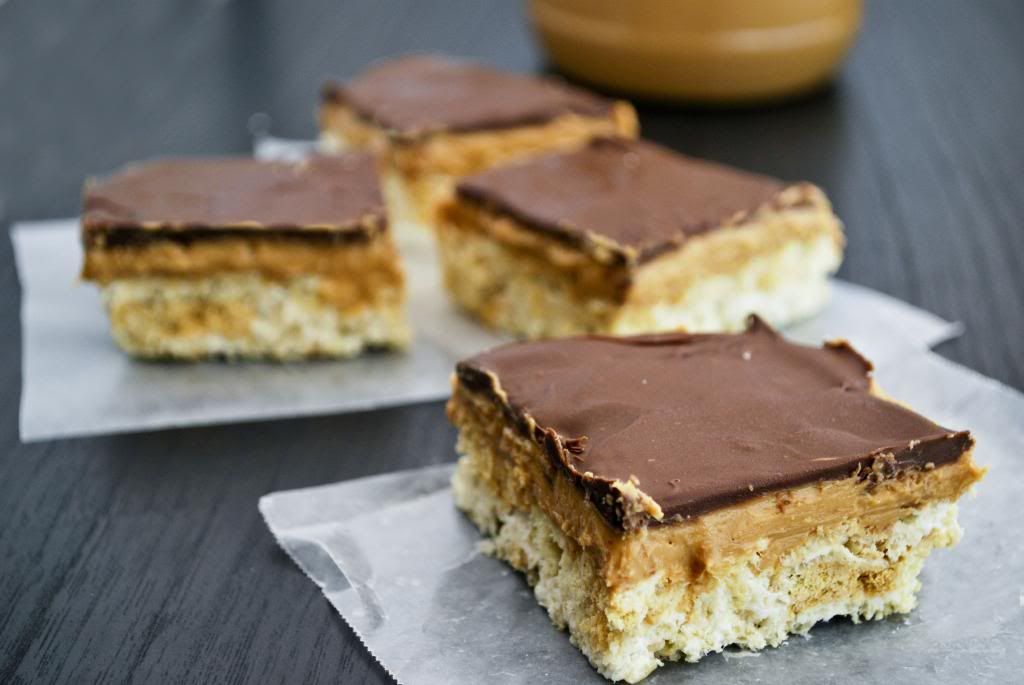 Tagalongs Rice Krispy Treats
4 Tbsp butter
4 cup marshmallows
1 tsp vanilla
2 cup rice krispies
2 cups crumbled shortbread type cookie (any kind works fine)
Pour the rice krispies and shortbread cookies into a large mixing bowl and s
et aside.
Melt the butter in a saucepan over medium heat. Once the butter is melted, turn the heat down to low and add the marshmallows. Stir until the marshmallows are mostly all melted (this will take a few minutes--low and slow is key for perfect texture) then
stir in the
vanilla.
Once fully melted, take them off heat and pour over the rice krispies. Stir lightly to combine. Dump
the mixture into a greased 9x9 pan.While cooling, beat together your peanut butter and powdered sugar. Spread evenly over cooled rice krispy layer. Let this set up in your fridge for about 15-20 minutes (this just helps when your pour your chocolate on top - it's not necessary to store
these
in the fridge or anything once you're done).
Melt your chocolate and oil in the microwave in 20 second intervals, stirring in between each until fully melted. Pour over chilled rice krispies and allow to harden. Enjoy!