As I'm sure many of you can tell, I am a very
health
conscientious
person
. Ahem. Maybe not. I try though. Despite how it might seem, I do try. And I know that many of you out there are much better than me. So today I decided to step things up a bit. I pulled out the ginormous container of protein powder I bought on a health fluke one day and decided to put it to use. In a rice krispy treat. Because we all know a spoonful of sugar helps the medicine go down. Or the protein powder. Anyhoo...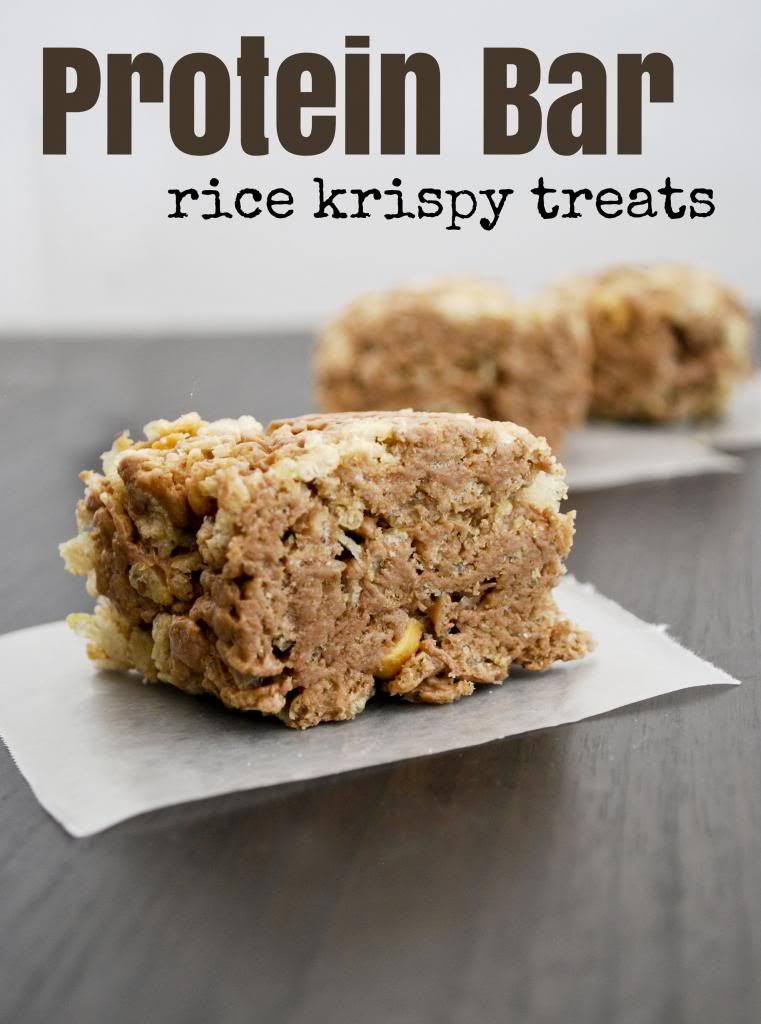 Now like most protein bars, this is not necessarily a low calorie diet food. If you looking for that I recommend a sprig of celery... or maybe a leaf of cabbage. The purpose of these is to be a hearty mid-day snack, a pre-workout fueler, a post-workout fueler,
a late night snack with a cup of milk
. I actually don't know. I majored in marketing not dietetics. But if you feel the need to get a little more protein in your life, here's a delicious option.
We first substitute the usual butter with some coconut oil. Which is supposedly pretty healthy for you.
Dr. Oz
told me so. Next we beef it up with a little power packed peanut butter. Yum. I'm pretty sure we're on a good track so far. Finally a few scoops of your favorite protein powder to give these a real boost and some extra vitamins and minerals. Ok, and here's where I pass the torch to you, Olympic style. You can choose from the following add-ins that really will give the extra energy, etc your body may need: toasted coconut, chopped nuts, dark chocolate chips, and/or raisins. Feel free to toss them all in, or whatever combo you like. All of them are good sources of healthy fats, fiber, etc... take your pick.
So whip up a batch of these today. They are honestly perfect when you are rushing around and just need a quick pick me up. Bonus they are delicious. No but seriously, they are. In a way only the combination of chocolate and peanut butter can be delicious. And in a way that makes me sneak a piece or two with a cold glass of milk in the middle of the night. Mmmm...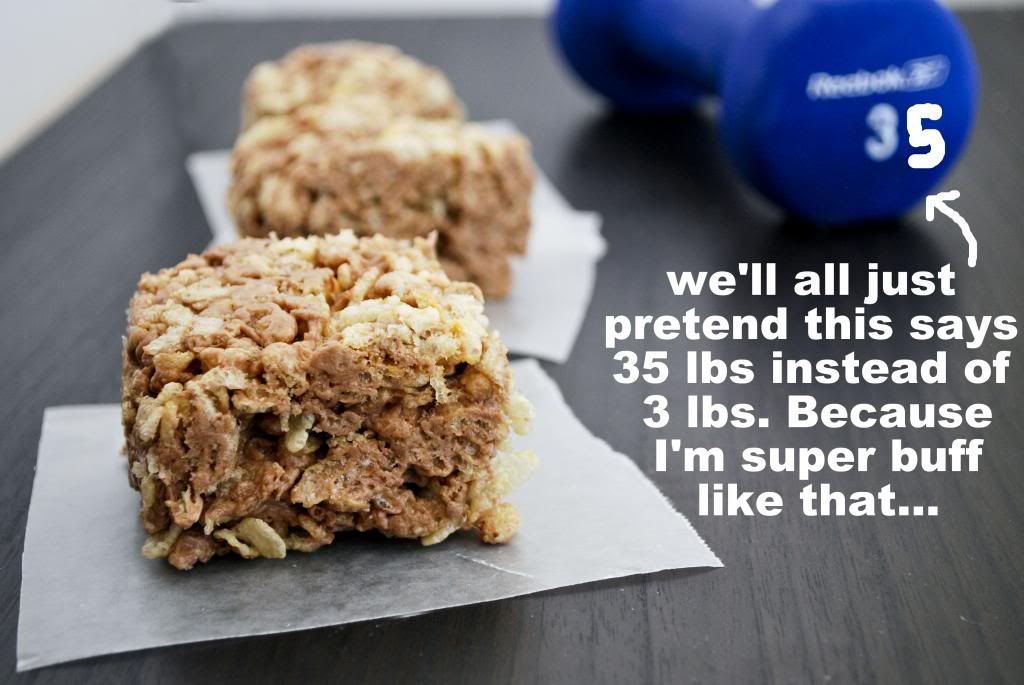 Protein Bar Rice Krispy Treats
4 Tbsp coconut oil
6 cups marshmallows
1/2 cup peanut butter
1 tsp vanilla
1/2 cup your favorite protein powder (I recommend using a chocolate flavored one)
5 1/2 cups rice krispies
1/2 cup mix-ins (raisins, toasted coconut, chopped nuts, dark chocolate chips)
Pour the rice krispies and mix-ins i
n a large mixing bowl
. Set aside.
Melt the coconut oil and peanut butter in a saucepan over medium heat.
Turn the heat down to low and add the marshmallows and stir until the marshmallows are mostly all melted. Add in the vanilla and protein powder.

Once fully melted, take them off heat and pour over the rice krispies. Stir lightly to combine. Dump into a lightly greased 9x9 pan and let sit 5 minutes. Then go and lightly press into the pan with greased hands. Allow them to cool about 20 minutes, then e
njoy!
*depending on your protein powder
and
type of mix-ins used, the protein count per serving for these can range from about 6.5 - 7.5 g. (for 12 servings)