Toasted Marshmallows, in my list of favorite foods they are second only to ice cream. Maybe peanut butter too... it's a tie... they'd be partners in a 3-legged race. Anyways, so I love toasted marshmallows. So WHY In The World have I never put Toasted marshmallows in a rice krispy treat?!? I Know.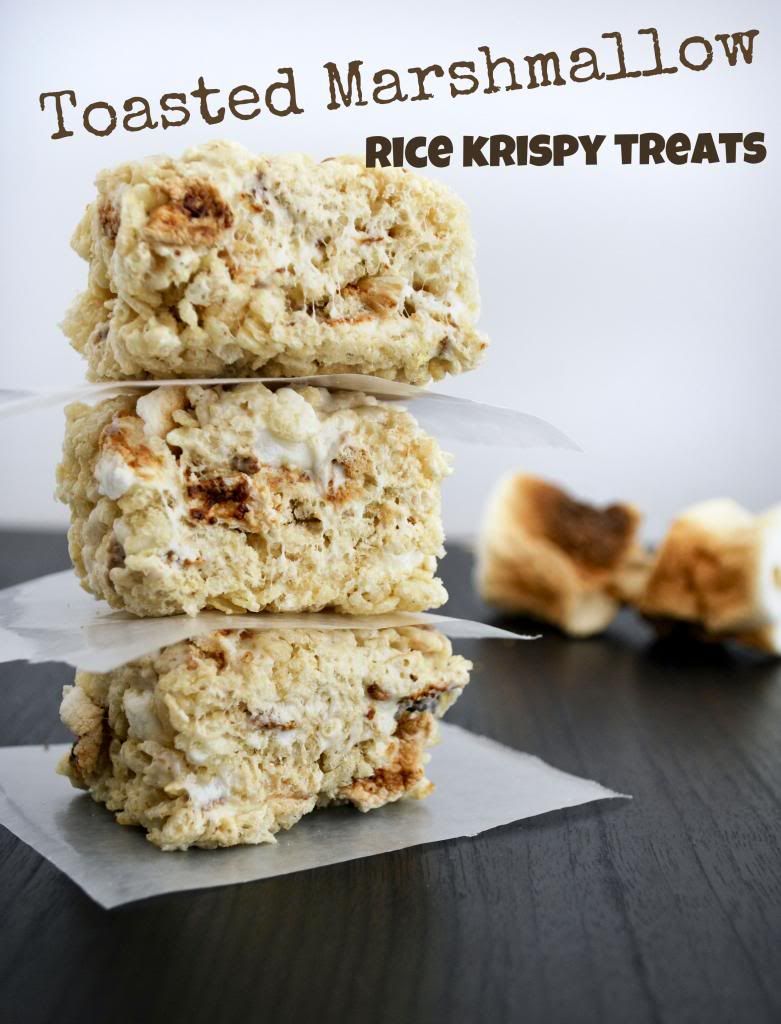 I decided to remedy the situation today.
T
he first time I tried making these I had issues. Once I toasted the marshmallows, they didn't really want to be melted together over the stove. I got this weird gooey blob with random crunchy bits. Hmm...
So my second batch I put the marshmallows straight from the broiler into the rice krispies. Much better. To compensate for the lack of butter in the recipe, I upped the amount of marshmallows relative to the amount of rice krispies. Perfect. Situation remedied.
I considered throwing in some chocolate and graham crackers to make them taste like s'mores, but I really wanted to focus on the flavor of the toasted marshmallows. They need their time to shine you know? We'll have to save all those other mix-ins for another day.
So you need to go try these. ASAP. I honestly don't think a rice krispy treat can get any simpler. Bonus they taste delicious. You'll be reminiscing about you're last campfire cookout... just minus all the dirt and smoke and mess. Win-win!
Toasted Marshmallow Rice Krispy Treats
(Wow, can a recipe get any
simpler
? I mean honestly... 2 ingredients? You're welcome world)
5 cups marshmallows
4 cups rice krispies
Pour the rice krispies into a large mixing bowl and s
et aside. Spread your marshmallows out on a large, well greased cookie sheet. Put marshmallows on the top rack under your oven broiler and broil until they begin to get toasty and brown. This took about 3-4 minutes in my oven.
Once they hit perfect golden remove from the oven and
immediately
scoop into your bowl of rice krispies. A wide
spatula
worked best for me. Mix your melted/toasted mallows with the cereal, then d
ump
the mixture into a greased 9x9 pan. Allow to cool a few minutes, then using greased hands, press lightly into the pan. Allow to fully cool another 20 minutes or so and en
joy!
Yes that is my daughter's hand waving in front of my lense... Did I mention I took all these pictures while holding her on my hip? Which is why I had about 30 more just like this one. The little bugger. If there was such things as photography olympics I'd totally dominate.
At least I have someone to munch on all my toasted marshmallows with me...